So you've been taking it slow for a while now. Her toothbrush has moved into the bathroom and you have found yourself surrounded by cute cushions and fancy facial products that leave your skin like a baby's bottom. The bubble of bliss envelopes you and she really is THE ONE. You spend more time laughing with her than in clubs with your mates, you spend every waking hour thinking about her, she is perfect, you can see everything that is beautiful about her and don't care that she uses your razor to shave her legs. The question is on the tip of your tongue and you want that special engagement ring to be as flawless as she is. It is a mine field, one that has too many choices. So many different cuts, so many styles, do you go timeless or contemporary? Princess or Round? How big does it need to be? How many carats? What size ring? What colour gold? How much should you spend? The list is endless. Take a look Whiteflash, for diamonds in Houston. They have some great information on diamonds.

[Photo courtesy of Thorn Yang/pexels.com]
It is no wonder that 61% of would be suitors consult their brides-to-be before buying that special diamond ring. It is something that you want her to be proud to wear, something that she will want to show off, you want her to squeak with pleasure when she sees it, to instantly grab the phone and call her best friend to announce the news. It is something you want her to wear forever.
Gentlemen, you are not alone. Take a deep breath and think about her. You know everything about her, you know she has freckles that glow like a warm fall afternoon on her face, you know she takes sugar in her Frappuccino, you know she always steals the duvet at 2am in the morning and you know she secretly borrows your razors but when it comes to the engagement ring, you are either going to get it so right or so very wrong. For a woman there is nothing that can surpass the ultimate feeling of euphoria as you watch your man get down on one knee, a delicate box pulled out of his pocket and a beautiful ring presented to you. It is like a Disney moment, played over and over to her friends, a story passed down through generations of how Grandpa asked Grandma to marry him, a timeless moment. Wait, what happens if that carefully chosen ring doesn't fit? The diamond is too big, the colour is wrong. A moment ruined for all to see.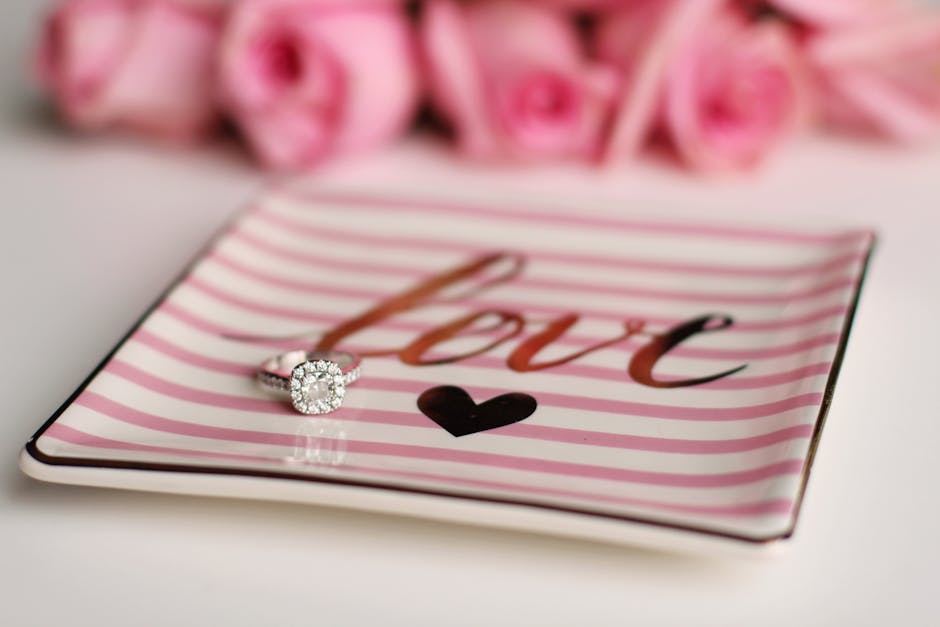 [Photo courtesy of Pixabay/pexels.com]
In this day and age it isn't an issue to consult with her. There are so many gentleman out there that feel out of their depth with so many styles to choose from that it is no wonder they ask their lady for guidance. After all she is the one that has to wear it year in and year out. It needs to be just like her, as special as her and most important of all she needs to be happy to show it off. Be brave gentlemen, ask her for her help, she'll thank you for it in the end. A moment to savour, you chose it together, the start of your new life together.