Browsing Category: "Wedding Gowns and Dresses"
Winter weddings are usually characterized by cold and sometimes harsh weather. Therefore, you need to choose the perfect color for your wedding. In fact, most of the people go for purple and red colors during their wedding. However, you would see how versatile they are during your wedding ceremony. In addition to considering your dressing, it is significant to think about your bridesmaid dress.
What is the suitable dress during autumn? 
During the autumn, the usual options are rich and deep colors for example red. Alternatively, you can also consider a cobalt blue's rich and vibrant wedding dress. Cobalt blue is a dress which bridges effectively the gap between summer and winter. The perfect match is a combination of black and cobalt with crystal jewelry. This makes the current bridesmaid dresses 2018.
Navy blue is another favorite color which is suitable fore fall and winter weddings. This is a timeless and a perfect color which remains sophisticated when you wear it. The dress is also enhanced by pearl jewelry sets.
For brides who are opposed to dark and heavy colors, medium blue dresses are the best. These dresses are kept with enough chocolate color which instills the fall flavor. For enhanced creativity, you need to make it more attractive with winter accents for example snow flake pendants, satin ribbons and silver painted pine cones with roses for the bouquets.
Tips on looking for the bride dresses
The following tips will assist you to look for a perfect dress for your wedding:
Look for the dresses earlier prior to the wedding day:
No matter how committed you are, you need not to wait until two weeks before you look for the dress. There are high chances of finding an outdated dress or you wouldn't receive the dress in time for your wedding.
Pick budget and stick to it
Before you start shopping, you need to make a decision on how much you are willing to spend.
The mother of the bride should not be left out when it comes to dressing for the occasion. Like the bride, she should look beautiful and appealing despite her age. Since giving away your daughter in marriage together with your husband, only happens once in your life, you must look captivating, if not gorgeous.
As you walk down the aisle, guests are curious where the bride's mother is. If they see you in shabby clothes, what will they say? Of course mixed reactions will be heard from the four corners of the church. To avoid hearing nasty things about you, wear the right clothes for the momentous event in your daughter's life.
Cheap mother of the bride dresses is available online and in retail shops. If you choose to buy them online, be extra meticulous when you place your order as looks could be deceiving. Don't just grab a design without carefully reading the product description. See to it, that with your additional body weight after years of being married, you have to look for the dress that will fit your body, suit the occasion and the wedding motif.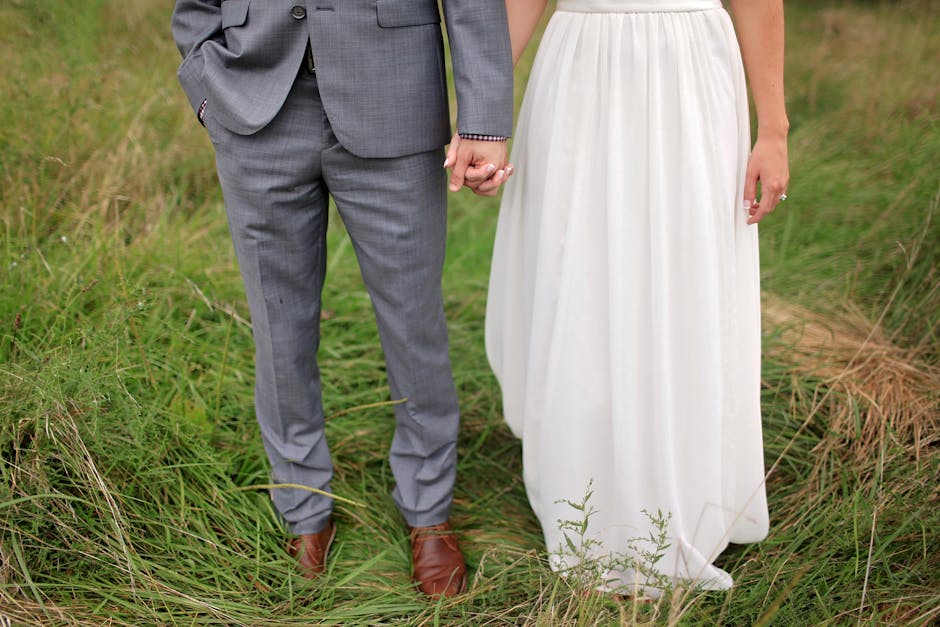 [Photo courtesy of Leah Kelley/pexels.com]
Online you can have a variety of dresses to choose from. The standard cut is A-line, princess, empire, V-neck, round neck or square neck. You can wear a knee-length, below the knee, floor length or tea-length dress. Chiffon, lace, tulle, organza, satin and lace are made of the finest materials to make you a standout in your daughter's wedding, but of course, you should not overshadow her.
If you are properly dressed, you will overhear guests say that you don't look like your daughter's mother. A long sleeve mother of the bride dress sewn in a princess scoop neck floor-length chiffon lace and A-line cut makes you stunning. Another A-line cut with sweep train chiffon makes you alluring and you can pass for as your daughter's elder sister.
The dress for the bride's mom is custom-made to perfectly match the grandiose wedding in your family. The sizes vary from general to plus and they are fit for all types of seasons.
Finding a dress for your daughter's wedding can be really tricky. Since you would not wish to ruin the wedding budget, it is a must that you stick to the budget by browsing through a selection of cheap mother of the bride dresses. Before you say yes to a certain dress, here are some of the things that you should do first:
Listen to what your daughter has to say
Since it is her day, is there a specific style that she wishes for you to wear? You can also ask your daughter to tag along with you while shopping if she has time to spare. With this, you can both have an input on what you are going to wear.

[Photo courtesy of Tookapic/pixabay.com]
Coordinate with the mother of the groom
You guys will always be side by side together in pictures, reception and basically the whole ceremony. It is best that you work out together your outfits. Make sure your colors are not clashing.
Stick to the wedding's color wheel
While parents of the bride and groom can play with colors, it is best that you choose a color within the wedding's theme color wheel. In this way, you will not steal your daughter's or any other entourage's spotlight.
Finding cheap mother of the bride dresses are now made easy with the help of the Internet. Go online, look through wide selection and choose of wedding dresses! It's just that simple!
Acquiring an excellent wedding dress is not in any way a simple assignment. Most of the time it turns out to be a stressful task for the majority of the brides as they need to select out their best outfit from a display of great dresses. Each spouse longs of dressing up in the most exclusive and fashionable way. There are a number of different emotions that comes with the task of buying the wedding dress.
It is relevant that you arrange your wedding shopping in a smart way so that you do not end up purchasing something which you are not certain. Therefore, you need to consider all the crucial points before going on a wedding shopping spree. Here are a couple of tips to help you pick impeccable wedding clothing and look nothing less than the best.
Select a Style
The principal step is to comprehend what sort of style you wish to wear. Ensure that whatever dress you choose matches with your physique or else the best of the dresses might fail to look great on you. There must be a match between your wedding dress and figure.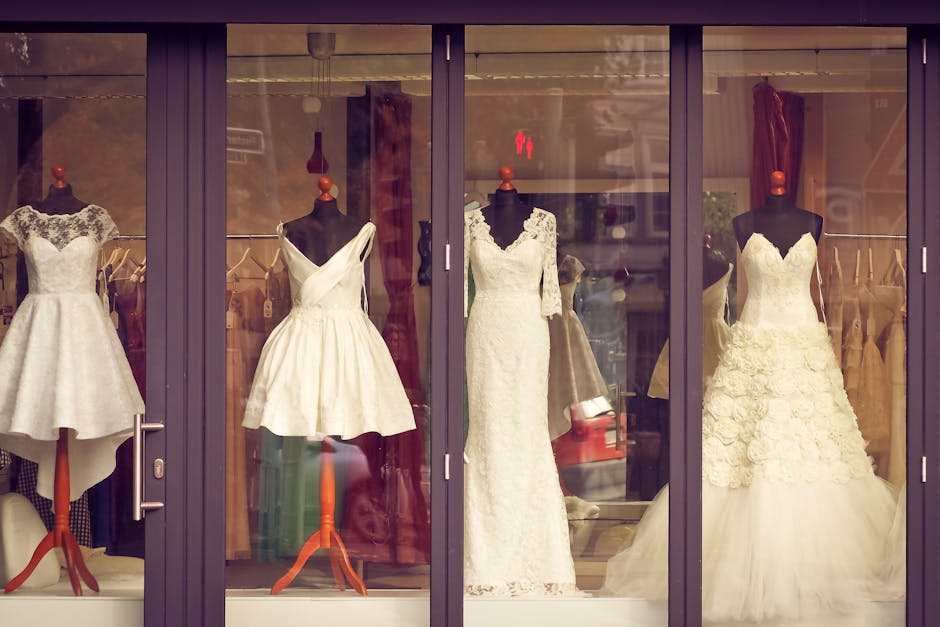 [Photo courtesy of Pixabay/pexels.com]
Color
Another crucial thing that you need to consider is the color and remarkable color combination that you wish to dress up in. If the wedding is going to be held during the day, then select the pastel shades link beautiful pink, pretty peach and exquisite green. You can likewise select combinations of dark and light shades which are contrasting. On the other hand, for a night wedding, you can select dark and bright colors. Remember to take seasons (winter or summer) into your attention while picking the shades.
Budget
You must set a few restrictions on your wedding dress budget plan just to make sure that you don't regret purchasing an expensive dress later. Simply come up with a small budget plan and do your best to stick within it.
Are the days tickling next to your wedding day? Have you met all the prerequisite before the 11th hour comes beckoning on your side? If yes, you need to put everything right into place. One of the main concerns in any wedding day and to the couples is the wedding dress. The major problem that arises when it comes to choosing a wedding dress is the availability of hundreds of options. Today, wedding cost is majorly taken care of by the couple not unlike in the past where parents were involved. This means that cost needs to be put at bay. That is why attractive but inexpensive wedding dresses become almost necessary to everyone.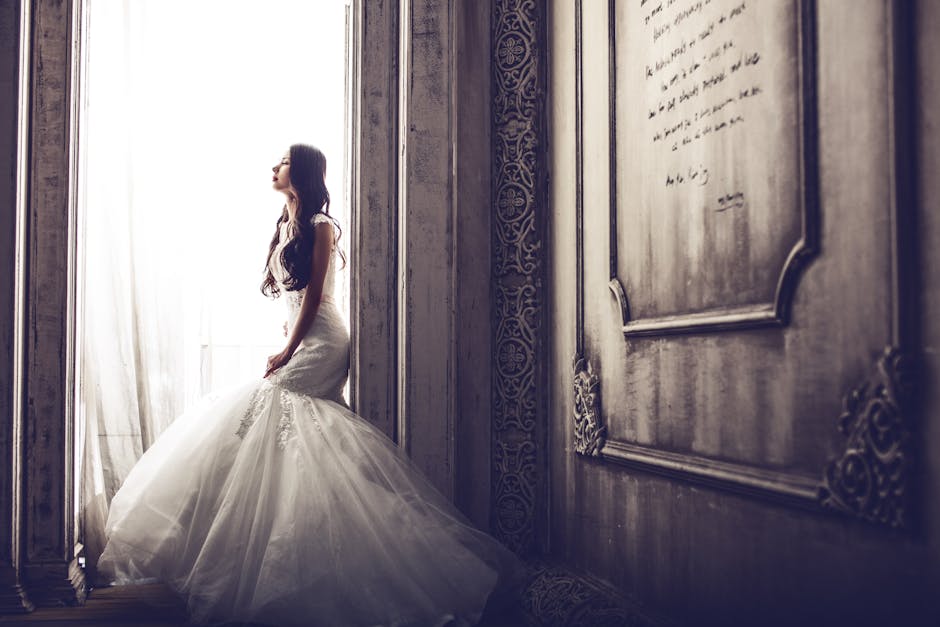 [Photo courtesy of Pixabay/pexels.com]
The mother of the bride dresses buying is not like buying a credit voucher where less is considered. When it comes to this kind of dress shopping, many factors are put into consideration. You may think of buying inexpensive wedding dresses that will not compromise the auspicious looks of the occasion. To achieve this, you need to put several factors into consideration and shopping wisely online.
Never buy a wedding dress without consulting with your spouse. You may end up over spending or using less money yet getting something that does not impress his eyesight. The budget that is put by each member of the team should be adhered to.  The gown color should not have a wide gap with that of your groom. Try to pick something that looks almost similar in terms of hue. The flattering appearance of your wedding dress should be appealing to everyone. To know about that, ask the groom and the other guys involved.
It's hard enough to find one wedding dress for you to wear for your special day! But trying to find a great bridesmaid dress for your chosen bridesmaids can be a challenging task! After all, they will all have an opinion on what styles and colors they love. But you need to remember it's your wedding, so you need to have the final say on their dresses. Here is everything you need to know about choosing bridesmaid dresses.
[Photo courtesy of Perin/wikipedia.org]
Whittle down the choices to a few
One of the best things to do to make bridesmaid shopping easier is to whittle down the choices to a few before involving the bridesmaids. Browse sites online and go into stores to look at the different options. You might want to take your mom with you so that you can have a second opinion. Once you have a few you like, you can then send pictures of them to your bridesmaids to hear their initial thoughts. You can then either order the one that's most popular with them or go out for the day shopping with all of them in tow. Whittling it down to just a few choices will stop you having to consider dresses you actually don't like!
[Photo courtesy of brookenovak/wikipedia.org]
Listen to their opinions carefully
At the end of the day, your bridesmaids are going to be the ones that have to wear the dresses on your big day. Therefore, you want them to feel comfortable otherwise, they might look miserable in your wedding pictures! Therefore, make sure you do listen to their opinions and feelings on the dress. Of course, views on the color should be disregarded as it's your wedding! But their opinion on the fit and style is important as you want them to look beautiful on the wedding day!
[Photo courtesy of Plum Pretty Sugar/flickr.com]
Don't buy dresses that are low-quality
Of course, you are on a tight budget for your wedding day. The average wedding costs over $25,000, so you need to be careful how much you spend on bridesmaid dresses!  However, don't buy low-quality dresses that you will regret later in your wedding photos! You will just look back and wish you bought nicer dresses that fit the girls better. You should look online for discounts such as a Macys Promo Code so that you can buy from good quality dresses without breaking the bank.
[Photo courtesy of Sherry Main/wikipedia.org]
Choose a style which fits them all well
We all come in different shapes and sizes. Therefore, it's hard to find one bridesmaid dress which is going to look right on them all. You should avoid going for figure hugging dresses that might be uncomfortable for larger sizes. Also, a strapless dress might not be the best for girls with smaller chest sizes. If you can't find one that fits all, consider going for different dresses in the same color! And if you have a pregnant bridesmaid, try and find a maternity style which is similar!
[Photo courtesy of outreachr.com/flickr.com]
Remember to pick the right shade for your bridesmaid dresses so that they don't clash with the rest of the theme. As this feature says, look at the color schemes of the venue and the season when choosing beautiful bridesmaid dresses!
A wedding is one of those occasions on which everyone wants to look their best. There are cameras everywhere, for a start. It's not possible to go and hang back from the official wedding photographer because camera phones exist. And in any case, there are lots of people there! It's a wedding; there's no point in trying to pass off smart casual here.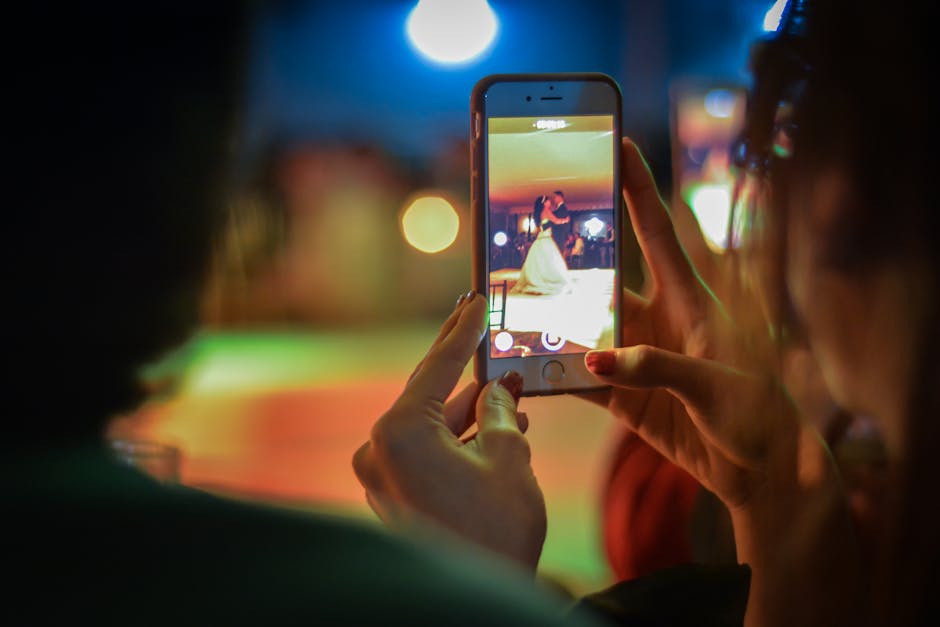 [Photo courtesy of Bruno Cervera/pexels.com]
Of course, the need to really get dressed up depends on your role in the wedding. If you're in a starring role, it is clearly more important to stand out. If you're one of the extras, it doesn't mean you can show up in your bathrobe and jogging bottoms, but you have more freedom. And then there is the question of "How dressy is too dressy?". You won't be thanked for outshining the bride and groom, be sure of that.
Bridesmaids
[Photo courtesy of Perin/en.wikipedia.org]
On the rare occasions that bridesmaid dresses aren't picked out for you as part of the planning, you have a brief to stick to. Know what the bride is going to wear and complement her. If the wedding has a theme or a specific "look", work within it. Say the bride has dispensed with the white dress and is wearing powder blue. A darker, more muted blue can work here. Nothing too short, and not too many accessories.
Mother Of The Bride
You brought her into the world, so people will forgive you for making it classy. What you're aiming for is something refined – you're proud your little girl is having her big day. You're full of joy that she's all grown up, while a little emotional about a big change. You can find some great outfits around even if you're not a supermodel. Classy Outfits For Plus Size Mother of the Brides aren't too hard to find, so you can feel good whatever your shape.
A Friend Of Bride Or Groom
You're not the best man; you're not the maid of honor. Oh, come on, get over it, it's obvious who they were going to pick. Your time will come! Bonus: You get to choose the outfit without editorial control from the couple. Now, don't let this go to your head, but it's a good time to break out your sharpest outfit, or buy something special for the day. No, not a bright gold silk suit – don't be that guy. A well-cut dark purple number could really work, though.
It's a special occasion, and as such it merits a bit of extra effort when it comes to how you dress. The key here is to treat the event with the gravity it deserves. At the same time, weddings always come with parties attached, so you want to cut a dash whatever you wear. You also need to remember that you'll be expected to dance, so don't go with anything too tight.
When people look back on photos of the wedding, of course, it's the happy couple they'll be looking for. But it is being recorded for posterity. It'd be a shame to let an opportunity to impress slip, wouldn't it?
Bridesmaids are not exclusive to single ladies who want to become a part of the wedding entourage. What if your best friend whom you promised to be your maid of honor or bridesmaid becomes pregnant? Her pregnancy is not a blockade, why you cannot include her in your wedding list. She could look more gorgeous and sexy with a maternity bridesmaid dress that is tailor made for her.
If you happen to be the pregnant bridesmaid, you don't have to worry about what to wear on your best friend's wedding as you can order the outfit online. There are shops that offers a lot of designs for expectant mothers who are proud of their looks despite their condition. The bridesmaid dresses can be knee-length, ankle-length, and tee-length to floor-length or midi-length. The bridesmaid dresses come in different color to suit the wedding motif and the fabric consist of chiffon, Charmeuse, taffeta, satin, tulle, or any combination of these clothing materials.
[Photo from aliexpress.com]
The design of the maternity bridesmaid dresses can be empire square, off-shoulder, one-strap, or one-shoulder strap, empire V-neck, and strapless or empire sweetheart. If you want to look stunning, you can shop for empire halter floor- length dress or look innocent in a princess strapless knee-length dress. Look sophisticated with sheath sweetheart dress in fuchsia pink to bring out your innocence. You can be as elegant as the bride when you wear a flattering dress from shops which is the home of different types of gowns for weddings, junior and senior's ball or debut.
Being pregnant should not deter you from attending family and social events because you can always shop chic and stylish dresses to fit a certain occasion. When you order the dress, don't forget to get the exact measurement of your abdomen and give allowance because your baby's weight continues to increase. You should feel comfortable on the wedding day by wearing a bridesmaid maternity dress that is not so tight or too loose. Buy a dress that brings out your sexiness despite the bulge.
One of the first things people look forward to once they are engaged is going to try on wedding dresses. It can be so exciting to find the dress that you are going to wear when marrying the love of your life. But how do you know if it's the right dress? Here are some questions to ask to know if you have found the right dress!
[Photo courtesy of GloriaAgostina/pixabay.com]
Are you smiling?
Wedding dresses can all be beautiful and make you smile. But when it's the right dress, you will grin ear to ear. You don't want to get a dress that is just okay. When trying the dress, if you look in the mirror and see yourself naturally smiling, this could be the right one. It can sometimes be good to try some other ones on, then go back to that dress and see if your smile is back.
Have you been to many shops?
It's important not just to go for the first dress you try on when choosing your wedding dress. You will be left disappointed if you see something else later that you love. Book in at several shops so that you can see their array of dresses. You won't be able to make the correct decision without at least going to two shops. You should try on at least six Wedding Dresses so that you can see what style suits you. Make sure you try on some dresses that you would never have chosen because you don't know; you might fall in love with the style!
Is it the right length?
A lot of people go for a long style because it's the traditional thing to do. But if you don't like it, why not try on some shorter dresses. They are very popular and a beautiful style. They are ideal for beach weddings as you won't get the sand on your dress. It's worth trying one on and seeing if it's right for you. If your family and friends say it's not right for a wedding, remind them it's your big day and you need a dress that suits you.
[Photo courtesy of Mathilda Samuelsson/flickr.com]
Is it the right cost?
Wedding dresses are often the most expensive purchase you will make in your life. It's important to get the right dress but you won't want to spend a fortune. The best thing to do is check the price of the dress before trying it on. If you fall in love with it, but can't afford it, it will be dreadful. We have talked previously about how you can find a cheaper wedding dress if you're on a budget.
Can you imagine wearing it?
When choosing the right wedding dress, you need to decide if you can imagine yourself in the wedding dress. If you can't see yourself wearing it on the day and having photos that will last a lifetime, you need to rethink your decision. You won't be able to hide the pictures and videos, so you need to love the dress.
[Photo courtesy of AliciaZinn/pixabay.com]
Not everyone will get that 'It's the one' moment like on Say Yes to the Dress, so make sure you try on a few until you're happy.
One of the most important day of everyone's life is their wedding. Everyone wants their wedding to be special and feels good on their wedding day. Wedding dress is always the central focus on every wedding celebration, luckily now a days there's a wide array of wedding dresses that can be personalized and buy online.
When ordering your wedding gowns online you need to be careful to avoid mistakes, make sure that the website offers the right gowns according to your specific requirements. Most online wedding dress shop provide different type of dress according to style, colors, kind of hem, dimensions, wait, bust and etc. They also offer the lowest prize guarantee and also provide discounts on shipping charges. To find the best online retailer you should do extensive research like looking for reviews and feedback from customers that has first hand experience. Comparing the prices and styles available between online stores is also a great help.
Most wedding dress shop online offers  varied sizes and packages available on their websites. Weddings are once in a lifetime events so make it more memorable by ordering beautiful wedding dress online.