Browsing Category: "Wedding Fashion and Events"
When you're having a real Texas shindig where your outside tents are full of well-dressed men and women there to enjoy the wedding of a dear friend or relative, the washroom facilities get a little tricky. Thankfully, there's now an answer: the restroom trailer.
[Photo courtesy of StockSnap/pixabay.com]
It's a luxuriously appointed, practical trailer that hitches to the back of a truck like a Ford F-150 and can be towed to where it's needed. There are many types of restroom trailers available, from the selfie model, to the commercial one, to the luxury model complete with overhead AC, wooded trim finishes and other little touches that will surely be appreciated.
Let's look at a few situations where a restroom trailer is a good option for a wedding.
Washroom Facilities for an Outdoors Wedding Venue
Hiring an outdoor venue for a big wedding with many marquee tents is a great way to manage a larger wedding group without struggling to find a venue large enough. The only challenge with hiring a tent is the washroom facilities. A restroom trailer is a great solution to the problem.
[Photo courtesy of ljlabarthe/pixabay.com]
A restroom on wheels – available in various sizes to choose, either one large trailer or two smaller ones positioned on either side of the venue – is a flexible solution. Luxury models often come with burlap-covered walls, attractive vessel sinks and carefully crafted stalls that don't feel cramped at all. From the patterned floor to the fiberglass overhead, the stylish little touches are everywhere, so guests will certainly give props for the washroom facilities.
Commercial Washroom
The commercial washroom trailer comes with a basic layout, so it can be dressed up however you need it. For low-key weddings where a few pleasant touches will certainly be appreciated, yet pure functionality is what you're going for, then a modern commercial washroom is good solution. When there's a color scheme to the wedding or party, this can be incorporated inside the washroom too. There are also different trailer sizes depending on how large you feel the facilities will be required.
[Photo courtesy of kertayasa89/pixabay.com]
Entertainment Venue After the Wedding
A selfie station is designed to provide a bright washroom to supplement or be used instead of the existing facilities at a wedding party venue. Either their washrooms are obviously too small or they're just inadequate to the task, in which case providing a different facility will be desirable to guests.
The selfie washroom trailer includes hot and cold running water, a bright clean interior, a radio entertainment package to keep guests in the dancing mood, solar powered facilities, and AC that automatically turns on when guests enter. With over 100 gallons of fresh water available, there'll certainly be plenty to wash their hands and get cleaned up before grabbing that selfie to post on Instagram.
There are different types of washroom facilities ingeniously built into trailers that can be towed into position. Clean and carefully appointed with all the facilities required, guests can enjoy the use of the facilities and then go right back to the wedding or party.
Congratulations; if you're planning your wedding, you've obviously had a recent proposal which you must be so excited for! You've probably been thinking about planning this particular day for a while now, and might well have a clear idea in your mind about how it will all pan out. Most brides-to-be have been pinning things to a Pinterest board, even in advance of any proposal, so you're not alone. However, sometimes it can be easy to forget that your future husband might want to be involved in the process too. Your beloved will obviously want you to be happy, so they can often feel that you're best left to organise and prepare things, along with making any of the big decisions.
Planning a wedding and all the details that go with it can be exciting, but also, exhausting. Therefore, it's a smart idea to get your other half in on all the action. You also want a day that reflects the both of you and to start married life as you mean to go on; as an equal partnership and an unstoppable team. There are all sorts of ways t get your fiance on board and ensure that he's well and truly part of the wedding planning and beyond. The following are some ideas, inspiration, and tips for future brides who want their wedding prep to be a joint effort.
[Photo courtesy of Andrii Nikolaienko/pexels.com]
The Rings
Assuming that you'll both be wearing wedding rings after the ceremony; why not ensure that they reflect both of your personalities and tastes. If your future hubby proposed with a "stud" ring; make sure that he's part of the process regarding getting something just right. You can do your research together online and design your own engagement ring as a team. The same goes for your wedding bands; visit the jewellers together and see how you can both get a bespoke piece to last a lifetime.
The Stationery
When it's time to send out those save the dates or wedding invites; you'll want your guests to open the envelope and know whose wedding it is immediately from the design. Therefore, it's vital that you visit the stationers together, or if you're making them yourself; ensure that you both decide on the design before you print or craft anything. Whether it's the words, images, colours, or all three that you use to put your character as a couple on paper; it's a process you should both be a part of.
The Venue
The venue where you say your vows should also be meaningful to the pair of you. Whether it holds sentimental value for you as a couple, or simply takes your breath away when you go together to visit it; you need to both feel special there and that the venue is perfect (as it can be). The more effort you put into your wedding as a couple, the more all the guests will see the influence both of you had, and you'll begin your long and happy marriage with one another.
It's hard enough finding a wedding photographer that's right for you, let alone gambling on a stranger from another country. If your wedding photographer doesn't speak English well, you could be in serious trouble when problems arise.
Although the memories of your wedding are likely to last a lifetime, how will you be able to reminisce on the most important day of your life if your photographer falls through? For members of the family who can't make it to the ceremony, what will you show them? Sometimes it pays to play it safe and stick with what you know – that's where destination photographers come in.
Package Deals
Paying for a photographer from home to follow you across seas can be exceptionally expensive, so see if you can get a package deal out of them, at a fixed price. Get this sum as low as possible because you'll be paying for a shed load of extras: accommodation, transport, air fare…and that barely scratches the surface. Agree what you'll pay for beforehand, or you'll be in for a nasty surprise when the bill comes through.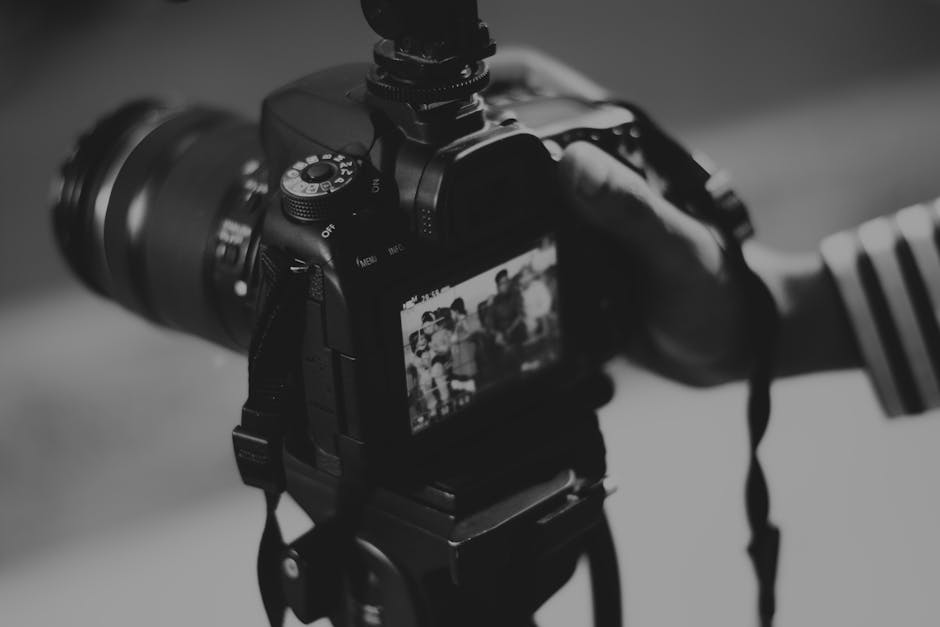 [Photo courtesy of Md Iftekhar Uddin Emon/pexels.com]
Be Kind To Your Photographer
Treat your photographer as a guest. They may be expensive, but they're carrying out one of the most important jobs of the evening. Encourage them to have the occasional glass of bubbly and relax. When it comes to accommodation, set them up with the rest of the guests, rather than in some nearby dive.
Digital Copies
Ask your photographer if they deal in digital or film photos, as X-Rays from luggage security can damage rolls of film. Not ideal. Also see if you can keep several copies of the day's photos – obviously you'll want your photographer to go through every single one and bring them up to scratch, but if you have copies, should the worst happen, the originals are safe.
Get To Know Your Photographer
Have the same photographer take your engagement photographs and build up a relationship with him or her; you've got to like this person and their pictures, as he or she will be effectively tailing you for days. Inviting your photographer to spend time with your family will ensure a personal connection – a fast way to get fantastic pictures.
Fly in your photographer with the rest of the party. He or she will need a few days to acclimatize to the country and get inspirational juices flowing. If country house wedding venues are your thing, he or she can visit the ceremony location and start planning photo ops. Use these extra days to take plenty of pre-wedding photos to flesh out your album.
Snap Them Up At The Right Time
Plan to book your photographer on an 'off season.' Prices will be cheaper, as it's likely that your photographer is struggling to get work.
Friday, Saturday, and Sunday are all prime wedding days, so if you plan to fly on the Monday and get your photographer back for Thursday, you could argue that you're not impeding on the photographer's work schedule. Cheaper prices, yay!
Most people value memories and experience, which means they will remember events that are unique and impressive. These are things to keep in mind while planning your next event. Whether it is a company picnic or personal celebration, the occasion can be spectacular when you pay attention to details such as remote control paper lantern lights and other particulars that changes the atmosphere from blah to outstanding.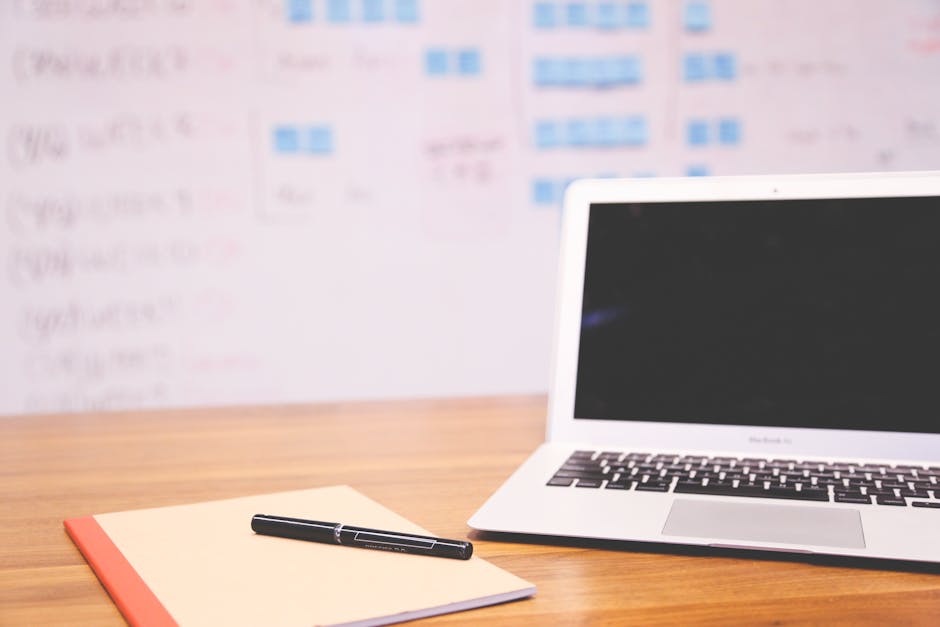 [Photo courtesy of Startup Stock Photos/pexels.com]
Plan Ahead
You will need a master plan before you can begin planning a memorable event. The smallest of details get missed when there are a lot of moving parts. Generally, you want a plan that covers all aspects of your event. Create a checklist like the one below to avoid forgetting something.
Venue selection (along with contracts, insurance and permits if necessary)
Catering management
Identifying and confirming speakers
Entertainment and activities to engage guests
Publicity and promotion tactics (includes online and offline through social media, signage and printed programs)
Registration and tracking methods for sign-up and payments
Sponsors
Volunteer recruitment
This is not an exhaustive list of what you may need for your event. Some items may apply and others may not. Details will change based on the type of event, location and other factors.
Brand an Overall Theme
One way to set your even apart from others is to choose a compelling theme. Come up with something that stands out and gives guests an idea of what they can expect. Consider giving the event an actual name as an attention-getter.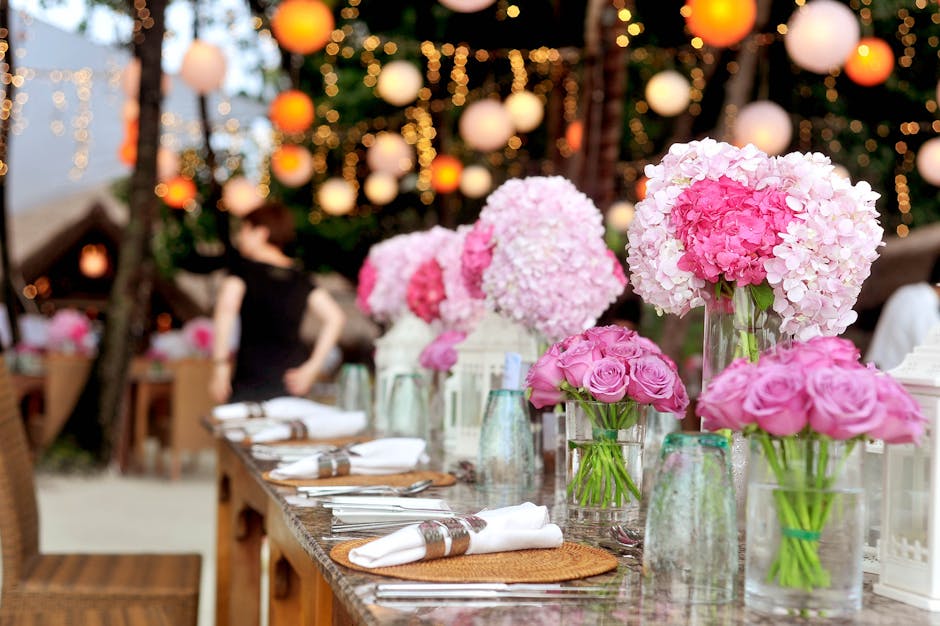 [Photo courtesy of Ibrahim Asad/pexels.com]
While brainstorming a dynamic name, think about how your event is different from others. Is there a message you want to convey? Your answer to this could be long, try coming up with a tagline so there is a memorable branding slogan to describe your event.
Use Creative Fixtures and Decor
Another way to ensure your guests have a great time is to use some creativity when decorating. Lighting fixtures and decorations connected to the theme creates the right type of atmosphere. Clever use of special equipment can transform any room into a remarkable place.
Planning an event can become stressful even if you are enjoying the tasks. Make your guests feel welcome by catering to their interests while also accomplishing goals for the event. Food, entertainment and decorations are significant parts. As long as you know your objectives and plan accordingly, your next event will be memorable and the talk of the town for all the right reasons.
So you've been taking it slow for a while now. Her toothbrush has moved into the bathroom and you have found yourself surrounded by cute cushions and fancy facial products that leave your skin like a baby's bottom. The bubble of bliss envelopes you and she really is THE ONE. You spend more time laughing with her than in clubs with your mates, you spend every waking hour thinking about her, she is perfect, you can see everything that is beautiful about her and don't care that she uses your razor to shave her legs. The question is on the tip of your tongue and you want that special engagement ring to be as flawless as she is. It is a mine field, one that has too many choices. So many different cuts, so many styles, do you go timeless or contemporary? Princess or Round? How big does it need to be? How many carats? What size ring? What colour gold? How much should you spend? The list is endless. Take a look Whiteflash, for diamonds in Houston. They have some great information on diamonds.

[Photo courtesy of Thorn Yang/pexels.com]
It is no wonder that 61% of would be suitors consult their brides-to-be before buying that special diamond ring. It is something that you want her to be proud to wear, something that she will want to show off, you want her to squeak with pleasure when she sees it, to instantly grab the phone and call her best friend to announce the news. It is something you want her to wear forever.
Gentlemen, you are not alone. Take a deep breath and think about her. You know everything about her, you know she has freckles that glow like a warm fall afternoon on her face, you know she takes sugar in her Frappuccino, you know she always steals the duvet at 2am in the morning and you know she secretly borrows your razors but when it comes to the engagement ring, you are either going to get it so right or so very wrong. For a woman there is nothing that can surpass the ultimate feeling of euphoria as you watch your man get down on one knee, a delicate box pulled out of his pocket and a beautiful ring presented to you. It is like a Disney moment, played over and over to her friends, a story passed down through generations of how Grandpa asked Grandma to marry him, a timeless moment. Wait, what happens if that carefully chosen ring doesn't fit? The diamond is too big, the colour is wrong. A moment ruined for all to see.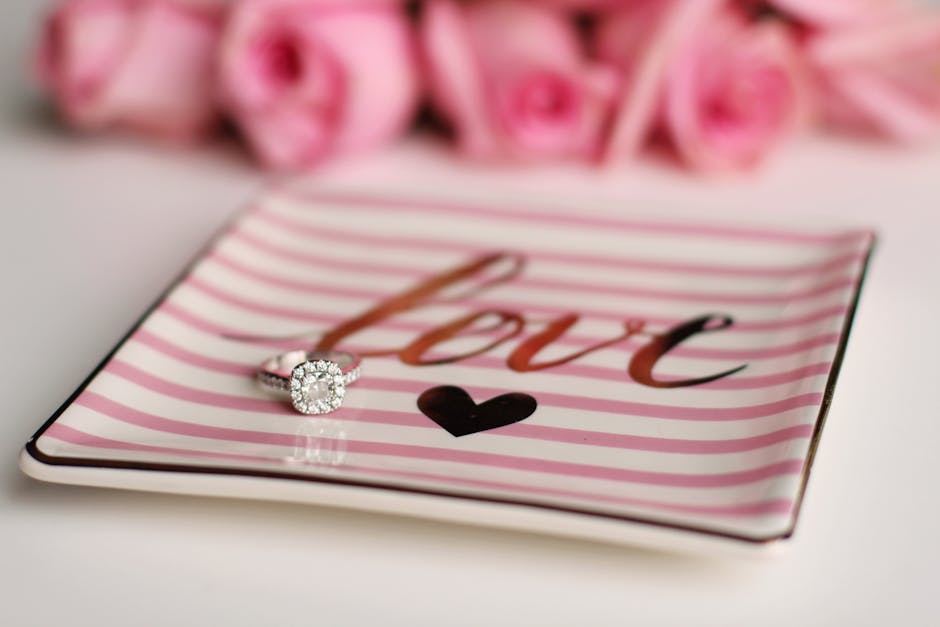 [Photo courtesy of Pixabay/pexels.com]
In this day and age it isn't an issue to consult with her. There are so many gentleman out there that feel out of their depth with so many styles to choose from that it is no wonder they ask their lady for guidance. After all she is the one that has to wear it year in and year out. It needs to be just like her, as special as her and most important of all she needs to be happy to show it off. Be brave gentlemen, ask her for her help, she'll thank you for it in the end. A moment to savour, you chose it together, the start of your new life together.
As your big day is approaching, there are lots of little details that you're to want to firm up. Although you've probably got some of the bigger choices confirmed months ago, there are always lots of little decisions and finer details that you have to put in place in the run-up to your wedding. One of these will be your jewelry. You may have had some ideas in mind when you first imagined yourself as a bride, but you still have to pick out the final pieces. So, if you want to make sure that you cover off all areas of your jewelry decisions, here are five key areas you won't want to forget.
[Photo courtesy of rawpixel.com/pexels.com]
The Wedding Bands
The first piece of jewelry that you're going to want to pick out will be your wedding rings. This may be something that you decide on when you chose your engagement ring or even earlier on during your planning, but if not, now's the time to decide on a style. Whether you want to look at some classic designs such as the Tacori wedding rings here, or even get something custom made, now's the time to decide. Just make sure that your final choice is something you love, as it's a ring you'll wear for the rest of your life.
Earrings
With the wedding bands chosen, you're then going to want to think about your personal jewelry for the big day itself. This could be something that you already own or even jewelry that you want to pick out especially for your wedding. Your style of earring choice may be based on two things; your dress and your hair. You may want simple studs or something bigger and dropped so that it's more noticeable. Either way, you need to make sure your choice works with your final look for the day.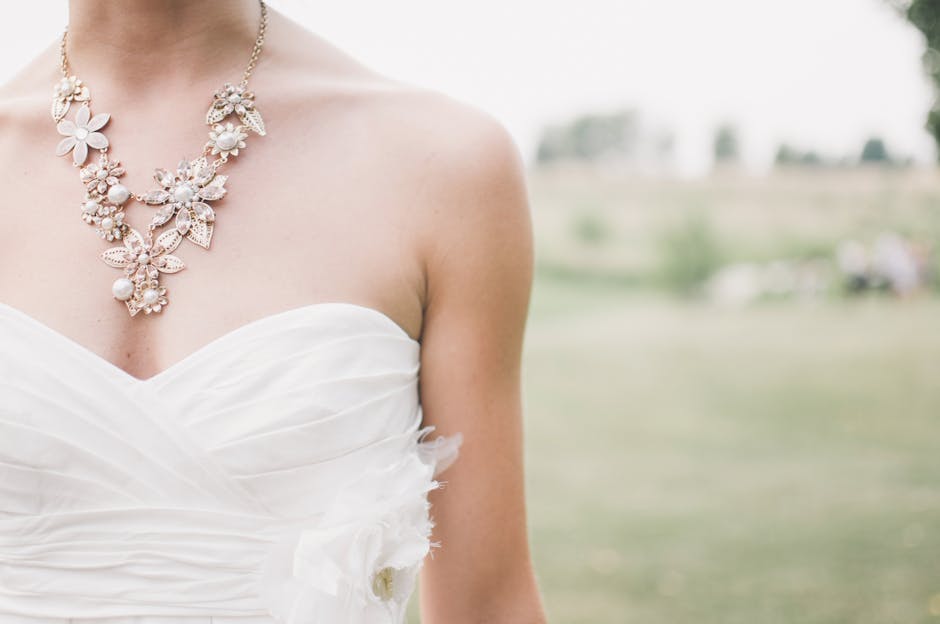 [Photo courtesy of Scott Webb/pexels.com]
A Necklace
Then, you may also want to think about styling a necklace with your dress. Again, this will depend on both your hairstyle for the day and the design of your dress. If you have something high neck, you may not even want to wear a necklace at all. But if you're working with a strapless dress, then you may want a necklace to break up the space and add a nice sparkle.
A Bracelet
After a necklace, you could also think about wrist jewelry. Bracelets look beautiful on your wedding day. However, the style that you choose will be based on your dress. Again, if you have something strapless, a bracelet may be able to break everything up and add some sparkle to your arms. But if you're working with a long sleeve, you may not want something that prominent.
Something For Your Hair
Finally, you may also want to think about the ways in which you can dress your hair with jewelry. Regardless of the hairstyle, you're working with; wedding hair accessories can always set it off perfectly. Whether you go for a clip or tiara, or even pins, you can add some bling to your locks to make your look complete.
Of course, a wedding is very important, and at times it gets very serious; you are pledging yourself to another human being for the rest of your life after all. However, the moment that you want to capture forever should have more smiling faces than stern faces in it. It's a celebration, and thus, it should show up as such when you look back in 20 or 30 years from now. Sometimes it can be an afterthought, because hiring a photographer to captivate your special day, isn't as important as all the other things that actually, make the day possible. On the other hand, it could be something fun, interactive and very personal. It isn't just about capturing the dress, the moment the bride and groom meet at the altar, it's about the friends and family, the joyous occasions with the children and making the best out of looking your best, that matters.
[Photo courtesy of erikamarcialm/pixabay.com]
Video vlogging
You could give the responsibility of capturing the day to a few of your closest friends and family. Modern retail video cameras are very high quality and have the ability to store a ton of footage onto their SD cards. You can easily switch out a card, and put another in, and within seconds, resume filming. Vlogging the entire day from multiple angles is a very, very personal approach. It's the inside view of the entire wedding. You'll get to see what your friends and family were doing when you were getting your hair ready. Instruct the wedding vloggers to go around and do interviews with the guests, and ask them what they think about the lucky couple, the party they put on and reminisce about old times. Even though you as the bride will technically be, behind the scenes, while the guests are the audience coming to see you, the truth behind the scenes is all the cogs and gears in the form of organizers, who should be filmed too.
[Photo courtesy of Jack Zhang/flickr.com]
Fun photography
A wedding is essentially a big party and the celebration of love. After you take your vows, the serious part is over, and now it's time to have fun. You may never look this good again, with a lavish white dress and perfect hair and makeup, so strike the poses you want with Booth Boy. A booth-style photography is a great way to get that fun mood and vibe going. It captures all the friends and family while they let their hair down. There are props you can use and much around with a bit of role play. There are many different backgrounds, colors and lighting styles you can choose from to suit the current party mood. It's a much more informal way of capturing the day, and not as serious as professional wedding photographers.
Capturing the moment can sometimes be a bit fake when you're doing so with a traditional wedding photographer. It's a lot of forced smiles and standing up straight and being perfectly still. There are alternative and more personal ways to capture your happy day, which show the true atmosphere and love you share with family and friends. You'll look back on that day of fun and flair, while also reminiscing about the different personalities that were on show at your wedding.
Your wedding album is supposed to be a beautiful reminder of your big day, and that's exactly what it should be, but so many brides and grooms neglect to have shots taken of some of their most special moment, perhaps because they're not considered that important at the time, or simply because they don't think to do so. This is something you should avoid if you want to be able to look back on cherished memories from every part of your wedding day.
[Photo courtesy of bymeltemce/pixabay.com]
With that in mind, here are some wedding photos you might not have thought of, but which you will definitely want in your album:
The Getting Ready
Getting ready for the big day is one of the most exciting moments of your wedding. The anticipation is mounting, you're surrounded by your nearest and dearest and it's your last few moments as an unmarried bride or groom, so document it! Get pictures of you having your hair done or the groom and his guys doing their ties up – trust me you'll treasure them just as much as that picture of you kissing at the bottom of the aisle.
Your Wedding Dress
[Photo courtesy of pixagod/pixabay.com]
Before you put it on, get the photographer to take a picture of your wedding dress in all its glory. Sure, you're going to have hundreds of photos of you wearing it, but if you have one of just the dress, when you look back at it in years to come, you'll remember how you felt seeing it in the shop for the first time.
The Groom's Accessories
Artfully arranging the groom's accessories (tie, button, etc.) and taking a few shots of them will do the same for him as seeing a picture of your wedding dress will do for you and it also makes a great arty shot to put up on the wall too.
Your Wedding Rings
[Photo courtesy of kgorz/pixabay.com]
Having the photographer take a nice close-up shot of your wedding rings is a must for any happy couple. Have him, or her take one photo of your rings separately where you can see the detail and one of you holding hands with both rings visible as a symbol of your love.
The Bouquet
The bridal bouquet is such a traditional, not to mention beautiful, part of the wedding that it would be a shame not to get a few artistic shots of it both with and without you holding it. You might also want to have your bouquet pressed and framed, so you can keep it as a memento forever if you aren't fussed about throwing it to your single friends.
Pre-Ceremony Shots
[Photo courtesy of Free-Photos/pixabay.com]
Most brides and grooms have their photographer concentrate on capturing the wedding ceremony as it's in progress and the reception as the day goes on, but very little time is given to the pre-ceremony proceedings. Traveling to the venue, walking to the church, crowds of loving family gathering for the big event – these are all things that deserve to be captured as extensively as the actual wedding itself.
Which less common wedding shots did you have taken? Which are your favorites?
On the day of your wedding, you'll have butterflies in your stomach, you'll be short of breath at times, and there'll be a million worries whizzing around your mind. It's important to let go and focus on yourself and your responsibilities; it is, after all, a life changing day. There will be many many things, which are out of your control, and one way you can react to uncertainty is to plan for it. However, you'll need some help in the form of one of your most trusted friends or family. You'll also need to be one step ahead of the world so that your day isn't ruined by things that you could have foreseen happening.
[Photo courtesy of Garitzko/wikimedia.org]
Don't rely on the outside world
Your cars should arrive early in the morning and be waiting to take you to the venue to intend to tie the knot. In conjunction with your booked time, your route must be planned thoroughly. Take into account the road, streets and highways you will take to the venue, and the amount of time it takes at an average speed to get there. If you've got limousine hire, you may have to take the long way around by mainly using long straight routes such as highways because such vehicles are a nightmare to navigate on tight roads like in the city and rural roads.
Additionally, traffic jams can be unpredictable but will be the difference between a slow, calm roll up to the front of the venue, or a panting, sweating dash up to the altar to take your vows. Therefore avoid congested roads, even if it's a quicker route. Allow for extra time, therefore, leave your prepping location early enough to cushion unexpected bites into time. It's crazy to think, but your car could get a puncture, you might forget something and have to go back, or perhaps even get lost. It sounds bizarre, but it does happen.
[Photo courtesy of Francisco Osorio/wikimedia.org]
Have a personal time manager
It is indeed your wedding, but while you're having a shower, putting on your makeup, having your hair done, having on all the right jewelry and fitting into the dress, you simply can't manage everyone and everything around you. So, don't be a control freak and pick out someone who you trust to be your manager that will keep everything in a smooth working order. They will report directly to you should anything change that will affect the time schedule as well as keeping all those who are vital to the ceremony like family, in line with the correct dress sense. Fix a communication system between yourselves well in advance of the wedding, so there's no chance of a game of Chinese whisper breaking out; on the day speak face to face with each other continuously.
Adapt to the weather
Coming up to within a week of the wedding, search online for the weather forecast on your wedding day. Normally, couples pick their wedding when there's a decent chance of sunshine, i.e. the spring and summer months of May through August. Nevertheless, whatever the intended weather, always have some form of a backup plan such as continuously updating the guests you have invited on how you intend to enact any last minute changes such as a one day postponing for decent weather.
If there's ever been a day when you want everything to look perfect, it's your wedding day. Appearances are pivotal as you bid to create those magical memories that will be treasured for a lifetime. Knowing this can pile on the pressure, but there's nothing to stop you achieving those goals.
The key is to make everything feel manageable. Here are five killer points to focus on. Get them right, and your big day will be even more spectacular than you imagined.
#1. The Look
The big day is all about the happy couple, which is why you both need to look your best. The wedding dress and suit are the most important outfits that and bride or groom will wear. Knowing that they are perfect will give any couple a boost in self-confidence.
Makeup and grooming rituals are important too. Meanwhile, the special guests including best men and bridesmaids should also look the part.
#2. The Venue
When picturing the big day, most girls picture their dream building or backdrop. Whether it's a church, a temple, or a beach doesn't matter. This one element sets the tone for everything ahead. Visit https://www.weddingwire.com/c/fl-florida/fort-lauderdale/wedding-planners/15-vendors.html to find more about planning this aspect early on. Let's face it; the longer you leave it, the harder it'll become.
In addition to the esthetic, you need to think about the location. If it isn't accessible for the guests, you should probably consider an alternative solution.
#3. The Décor
The venue itself provides solid foundations. However, it's still important for the loving couple to stamp their authority on the big day. Finding a theme for your wedding brings everything to life. Moreover, it aids with the color schemes and additional decisions.
Combining traditional elements with modern twists is often preferred. Meanwhile, you can use things like previous holiday destinations to guide things forward. As long as it provides a winning result in the eyes of the happy couple, that's all that matters.
#4. The Arrival
 When the big day arrives, you realize that months of preparation have been leading up to that one moment where the bride arrives to meet her new husband. This is one of the most important parts of a woman's life, let alone the day itself. Getting it right is key.
Choosing the right transportation ensures that she can make the grand entrance without having a single hair out of place. Find limo hires at http://www.fl-limousine.com/limo-service-fort-lauderdale for a great solution. Not only will the bride have plenty of space for herself, but she'll have the support of her bridesmaids too.
#5. The Photos
 The memories created on this magical day will last a lifetime. Nonetheless, the photographs offer wonderful mementos of the special event. Knowing how to pose before the big day is key. Meanwhile, you should probably arrange to meet the photographer to avoid any awkwardness.
A modern approach also involves getting guests to take snaps on disposable cameras for a more natural representation of the big day. With the right combination of the two, those iconic images will be everything you hoped for and more.