Browsing Category: "Marriage and Relationship"
From the moment he proposes, your lives will never be the same again. You are now officially a team, working together to enjoy a beautiful life as a married couple. Of course, the months between this moment and the time you arrive home from your honeymoon are going to whizz by. So much will happen, and it will change so fast that you might not have a chance to savor any of those beautiful moments. This is why more and more couples are documenting their journey from 'Yes' to 'I Do' and beyond.
It's going to happen fast, so it's worth planning or scheduling the important bits. Hire a photographer for the big proposal (assuming it's not a surprise.) This gives you a chance to enjoy the moment and allows a professional to capture the look on each of your faces. If it's a public proposal, then be sure to document everyone else's reactions too. There will be cheers and congratulations to capture. You might want to include moments with each of your parents as they hear the happy news.
As you plan your wedding, there will be many more occasions that you might like to record. Sometimes it's nice to take plenty of pictures of all the things you tried, even if you didn't select them for the big day. This could include cake tasting, menu sampling, bouquet choices, and even dress fittings. These are the moments that add to the excitement of a wedding but seem to be forgotten by the time you reach your big day.
Last Moments Before 'I Do'
What about your stag and hen parties? These events are very important to the bride and groom. It's always worth preserving a few pictures of the night for the album. By now you already have plenty of images to compile in the book. You might start to consider how you wish to present them all when you come back from honeymoon.
Of course, by the time you reach your wedding day, you will have selected your preferred wedding photographer. There are often several different packages to choose from. Why not include shots of the bride getting ready and the wedding party assembling? The bride arriving at the ceremony, the happy couple saying their vows, and leaving the venue as a married couple are just the standard shots. Consider some posed shots to show off your hair and dress.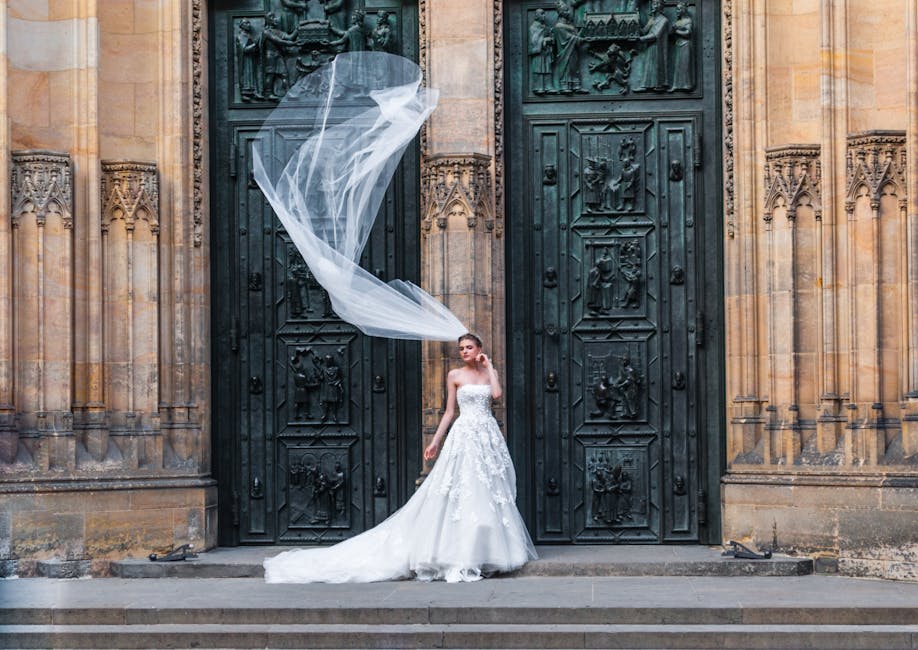 [Photo courtesy of Pixabay/pexels.com]
Now You're Married!
Your reception will be a happy event attended by everyone you love. It's important to capture group photos as well as individual pics of the people who were there. You might leave notes on the tables asking guests to upload pics of each other to your Instagram or FaceBook pages. This can help you decide which ones you want to include in your album later on.
Don't forget to take a good quality camera on honeymoon with you. There will be plenty of interesting sights to see as well as amazing activities to share with your husband. All of these moments will be over all-too-soon. Thank goodness you have all those wonderful photos to relive and reminisce!
Europe
Known as the world's most romantic city, Paris has museums, parks, palaces and much more. Lovers choose to come here time and time again as there is so much to see and do. Stroll along the streets hand in hand or ride a boat along the Seine which is the city's lifeblood.
It is impossible to mention Venice without thinking of romance. This city captures the heart of everyone who visits it. Little bridges and centuries old buildings make this city extra special. The Bridge of Sighs and the Rialto Bridge are two of the world's most romantic spots and even the hardest of hearts cannot fail to fall for their charms.
The Greek Islands conjure up visions of romantic holidays and rightly so. Santorini is a great island favourite with hotels overlooking the sea and restaurants perched high in the hillside. The quaint old villages of Akrotiri and Pyrgos are worth a visit to see their black volcanic sand.
Further Afield
Aspen, Colorado, is a haven not only for the rich and famous but for those in love. A paradise for skiers, this is a great romantic destination throughout the year. To the northwest are Glenwood Hot Springs, a perfect romantic hideaway. You can also take horseback rides Western style or curl up in front of a log fire in a lodge.
The mere mention of Hawaii conjures up romantic expectations. Ideal for lovebirds, the island of Kauai, known as the Garden Isle, will exceed all expectations of romance and seclusion. Stunning sunsets, beautiful beaches and brightly coloured tropical flowers mean there is an abundance of splendour.
Where could be more romantic than Australia's Great Barrier Reef! Pristine beaches, clear water and an amazing reef make this the most quintessential romantic island paradise holiday ever. Eight islands boast ten resorts the best of which is undoubtedly Hayman Island. Renowned for its outstanding cuisine and luxurious surroundings, it is the epitome of romance.
Guangxi Province in southern China enjoys a warm climate. Rugged mountains and lush landscapes make this a picturesque region. After visiting pagodas, colourful caves and a former royal complex, you can lazily drift down river towards Yangzhou. Romantics will enjoy seeing Longsheng rice terraces as well as sampling rice noodles for which the region is famous.
Nassau Island in the Caribbean knows how to pour on the romance. With turquoise waters and pink sand, the island has splendid places to eat, great nightlife and amazing watersports. As with any holiday, you will be trying to make the most of your money and this might be a good time to switch credit cards. After all, you don't want to come this far and miss anything!
As well as being a romantic getaway, Costa Rica in South America has exotic landscapes and natural rainforests. Make sure you take in a trip to the volcanoes of Poas and Irazu as well as seeing the La Paz Waterfall and Butterfly Gardens. You can take a rafting trip through the rainforest where you may be lucky enough to see turtles, monkeys and beautiful orchids.
The island of Tahiti has been featured in many films. Clear streams, deep valleys and high waterfalls make it a perfect destination. Its small villages and intimate resorts are considered some of the world's best places for solitude and romance. Romantic cruises can be taken around the 118 islands and watersports can be enjoyed throughout the area.
Wherever you decide to go, remember to book travel insurance online before you travel!
International marriages is a trend encouraged by the government of South Korea to solve the low birthrate problem and country's rapidly aging population, since most women move to big cities to live and work it resulted in lack of population of women in rural areas of South Korea so Korean men seek help of marriage brokers and agencies to find bride from east Asian countries like Vietnam, China, Japan, Philippines and others.
[Image credit: freedigitalphotos.net]
Fixed or arraigned marriage could be legal in South Korea but not in the Philippines under Anti-Mail Order Bride Law of 1990 or Republic Act 6955. Just two days ago a  mail order bride business  in the Philippines was tracked down by local police rescuing 29 women and  arresting two South Korean men and their local partners. Report said, the gang collects a big sum of money from Korean men seeking Filipino wives, lying to them that the money will go to the women's family but actually it will not,  just  a small portion were given the bride for processing her spousal visa application to Korea.  Most of these women were promised a better life in Korea but often ended on being abused and lied read here.
The arrest maybe good for the government but not to many Filipino women with high hopes to help their family by getting into marriage brokers and marrying a foreigner.
Korea is a dream country to other people especially those who are fanatic of Koreanovelas, if you are one of them you might think Korea is a paradise and dream world. Well probably on different aspect, the answer is yes but there are several factors that waking you up to reality.  Life is not easy in Korea especially if you are not aware of the culture and not been out of the country on your whole life and all of your life you didn't eat other food rather than the food around you.
[Image not Mine]
According to what I read many  of the woman married to Korean end up to divorce, either their husband beat them up, cultural differences, no time for them, infidelity, problems with in-laws and many more factors that broke their marriage. Some wives left their husband and run to friends, hide and work secretly to factories and other establishment they could work and support themselves and families way back home.  The dream of better life they though of having in Korea was just a  dream and nightmare.
If you are dreaming of marrying to Korean men are you aware that Korean men use brokers to find wives? Yes they do,  most of the Korean men go to international matchmaking agencies to find wives because there chance of marrying Korean women is small. They may have been too old,  divorced,  not financially stable and not appealing to Korean women. A show up were made so a  Korean men can choose whom he wants to marry from the set of 2 or more girls, once chosen the wedding ceremony will follow the next day or in few days.
Most of this foreign bride were lied, suffer isolation and abused by their husband, agency will inform them that their husband is a manager or has a lot of  properties and etc. Though there are still some marriage relationship that came from matchmaking agencies are happy and contented. You really don't know when you are going to be lucky!
Since I have stumbled to pages made for Filipinas married to foreigners it already became my habit to read few stories about their problems and give a piece of advice.
What caught my attention today is the story of Ms. X being married to a foreigner, according to her story they met through agency. She marry her husband so she can help her family financially. Her main problem is her husband doesn't know that she is a single mother and she still have a communication to her boyfriend of few years which she said cannot just forget because of the memories they shared with. Now she feels guilty and scared to open her secret to her husband because she already learned to love him.
My say:
Her purposed to marry a foreigner is wrong but we can't blame her because that's the reality now a days and we are not on her shoes, though her situation today is very complicated, as an idiom says "Huwag kang mamangka sa dalawang ilog", don't be unfaithful. She should only choose and love one. You only have one heart and you cannot love two person on the same manner, one exceed from the other.
One more thing we cannot kept a secret for a lifetime like we cannot hide the stench of a dead rat forever. Her mistake is not to be honest in the first place and now she is suffering the consequences and guilt. Having a luggage to carry is not easy, it is like a nightmare you cannot escape at night. It would be easy if we can ask someone to carry our luggage, but the reality is we carry our own tail.
As a married woman she should let go of her boyfriend, give the guy a chance to find someone who is free to love him likewise to his husband. Things will get more complicated if her husband discover her secrets from other people, so as early as she can she should confess her secrets and if her husband cannot accept it nothing else she can do, at least she is guilt free. If her husband divorced her then she is free to be in relationship with her boyfriend.
And don't let her kid to grow hatred to her for being kept in a distance and disown just to marry a foreigner.
Wedding preparations is very stressful that's why there's wedding organizer to do the job no matter how big or small the upcoming wedding is going to be.  They are the one responsible on every details of wedding, the decorations, flowers and everything that is need for wedding celebration,  they also help you track of everything including the expenses.  They can also provide wedding limo if asked because they are the one who has a lot of contact about wedding matters.
So if you are planning to get married and find the preparation stressful you can hire wedding organizer or you may asked someone from your relative to act as one.
I have recently stumble to a page online about Filipino being married to Foreigners, everyone has their own stories, dilemma and problems. I have noticed majority of their problems is the culture and misunderstanding for everything. Filipinos are way sensitive that's why when their husband says something they are very much affected. I have been on that situation too but before I became angry and do self-pity I remind myself of our difference, we have different upbringing and we have different culture.
[Image source: mypcwallpaper.com]
Comparing is also one of the factor that affects a relationship, some Filipinas always compare their husband to the way Filipino men does. Sometimes they also compare their relationship on their family relationship. I should say women married to foreigners should stop comparing their husband because the more you compare the more you can't appreciate your husband who he was. Accept your husband's weakness and lack for something and surely your marriage relationship will not end to nothing.
Today is the wedding anniversary of my parents and I forgot about it, if I am not reminded by my husband I am not going to remember it. Bad child huh? My mind is just so occupied these past few days that I already forgot what date it is, thanks to the calendar in my laptop that constantly helping me to track the date.
Anyway my parents really don't celebrate their anniversaries like we don't celebrate our birthdays. To us it is already a luxury that we cannot afford to celebrate, it was only these last few years that we cooked or buy something when someone has a birthday. I am thinking of buying them a wedding anniversary but probably the printer and cleopatra chair my mother bought will serve as a wedding anniversary gift, what you think.
Valentines Day is now fast approaching probably most couple are now planning where and when to spend their Valentines Date. I remember those time on College where my friends and I wore same color of clothes just to be in trend. Wearing red was popular then well probably until now but those time we agreed to wear black shirts as we are all loveless. Haha
Surely most dating place like parks and cinemas are full on Valentines Day. It is one of the special day where couple have their time together to express and treasure their love with each other. My husband and I has no plan on Valentines Day, normally we just eat dinner and that's it no more no less.
A month ago my grandmother's sister which also happened to be my grand mother/aunt celebrated 60th wedding anniversary with her husband. Everyone was invited so it also turns out as family gathering, my sister uploaded some photos in Facebook so I grab one to blog here, why this late? Well I am just too procrastinated to do a post.
[Image credit: weddinglove2013.com]
So sweet right? I think everyone of us is also wishing that our marriage will last until we got old, until forever. Just too bad I was not able to attend their wedding anniversary celebration I am sure everyone enjoys.